Count Your Blessings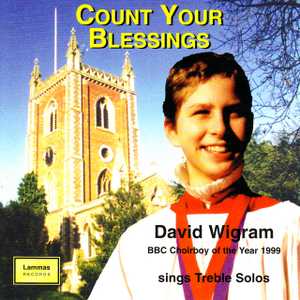 David Wigram
Organ: Christopher Muhley
 Piano: Tony Wigram
LAMM121
Here I am, Lord
Dan Schutte
O rest in the Lord
Felix Mendelssohn
Ave Maria
Simon Lindley
Ave verum corpus
Wolfgang Amadeus Mozart
Count your blessings
Reginald Morgan
Hear my prayer
Felix Mendelssohn
The little road to Bethlehem
Michael Head
Be still, for the presence of the Lord
David Evans arr. Norman Warren
The Ash Grove
Welsh Trad. arr. Tony Wigram
Lead me Lord
Samuel Sebastian Wesley
Ave Maria
J S Bach arr. Charles Gounod
God be in my head
Henry Walford Davies
All things bright and beautiful
John Rutter
Panis Angelicus
César Franck
Sun of my soul
Herbert Oakley
Sleep song from Hansel and Gretel
Engelbert Humperdinck
Walking in the air from The Snowman
Howard Blake
Ave verum corpus
Edward Elgar
Pie Jesu from the Requiem Mass
Gabriel Faur
Brother James' Air Psalm 23
James Leith MacBeth Bain
Bless this house
May H Brahe
The Lord bless you and keep you
John Rutter
Total playing time 66m 00s
Count Your Blessings
BBC Choirboy of the Year 1999
Count Your Blessings
There are so many beautiful treble solos in the repertoire, and as a church chorister for the last seven years, and currently Head Chorister of St. Peter's Church, St. Albans, David Wigram has enjoyed many opportunities to sing these works during weekly church services. The selection chosen for this recording brings you some of the songs, hymns and anthems he has particularly enjoyed performing. St. Peter's is one of the few parish churches in England where full Matins and Evensong are sung every week, enabling both the choir and congregation to continue to know and appreciate the rich variety of church music, particularly the wide range of settings of the canticles by baroque, classical, romantic and 20th century composers.
Of the many wonderful new hymns of the past two decades, David has chosen two favourites, Here I am, Lord, and Be still, for the presence of the Lord, and of the more traditional hymns, Sun of my soul, and the 23rd Psalm set to the beautiful and lyrical Brother James' Air by James Leith MacBeth Bain. David has a special fondness for Mendelssohn's music, many of whose works are sung at St. Peter's. O Rest in the Lord is a contralto aria sung by the 'angel' in his well-known oratorio Elijah, written in 1846 for a festival performance in Birmingham. The anthem Hear my prayer is of significance to lovers of church music since the remarkable and historical recordings by Ernest Lough in the 1930's with George Thalben-Ball at the Temple Church, London. David has been performing parts of it since the age of ten and eventually took the lengthy solo part in the complete work during the St. Albans International Organ Festival in 1999.
Two settings of Ave Maria are included in this selection. The first is by Simon Lindley who was assistant organist at St. Albans Abbey in the 1970's, and was written as an anthem for treble voices, inspired by the music of the then organist at St. Albans Abbey, Dr. Peter Hurford. David sings both parts, double tracked, in this anthem, as he also does in Humperdinck's Sleep Song and Rutter's The Lord bless you and keep you. The second setting is the well-known arrangement by Gounod, a Parisien composer of the nineteenth century, using Bach's first prelude of the 48 Preludes and Fugues. Further French influence is found in CŽsar Franck's Panis Angelicus, often sung during communion. Gabriel FaurŽ's remarkable and evocative Requiem Mass is included in worship every year on All Soul's Day at St. Peter's, and the quality of the Pie Jesu, while a demanding solo, is enhanced by the pure, clear voice of a boy treble.
Short, soft and gentle anthems sung during communion were favourites of the romantic composers in the Victorian era. Lead me Lord, by Samuel Sebastian Wesley, one of the most prolific composers of the 19th Century, and God be in my head by Henry Walford Davies, Thalben-Ball's predecessor at the Temple Church in London, are two fine examples, and have become gems in the repertoire. Thalben-Ball, coincidentally, gave the inaugural recital on the new organ in St. Peter's Church in 1974.
Two settings of Ave Verum Corpus have also been included, arrangements of the anthems for full choir. Both have their place in the church repertoire and are fine examples of the choral writing of their composers. Mozart's setting has become one of the most loved and well-known anthems, while the setting by Elgar was among his earliest works.
Reginald Morgan's song Count your blessings, published in 1946, holds a powerful message, both for when it was written and in our present lives, and it is the timeless and enduring words by Edith Temple that caused David to select this as the title of his CD.
Michael Head's carol, The Little Road to Bethlehem, has special significance as the words, by Margaret Rose, were apparently inspired by the sight of the lambs in the fields at sunset in North Weald, Essex, where David's grandfather's family have lived for many years. John Rutter, formerly organist of Clare College, Cambridge, has added immeasurably to church music, particularly with the carols he has composed and the edited volumes of Carols for Choirs, in partnership with Sir David Willcocks. All things bright and beautiful is a hymn with many tunes, but here the rhythmic and syncopated accompaniment supports a beautifully constructed melody. Rutter's remarkable gift for writing a good tune and then enhancing it with sensitive and emotionally stimulating harmony, making him almost the Andrew Lloyd Webber of English church music, can be found in The Lord bless you and keep you, where David has recorded both parts.
The secular works on this CD include The Ash Grove, a lovely Welsh folk song, with an enduring tune, to which the accompaniment was improvised during the recording. Bless this house, while a secular song which has also achieved great popularity in times past, is nevertheless a prayer. Walking in the Air from Howard Blake's score for the animated film of Raymond Briggs' Christmas story The Snowman for children (of all ages) has achieved tremendous popularity, and conjures up images of the small boy grasping the hand of his snowman, flying through the dark night sky to the land of Snowmen and Father Christmas.
Jenny and Tony Wigram. January 2000
David Wigram
David Wigram is Head Chorister at St. Peter's Church, St. Albans, and BBC Radio 2 Choirboy of the Year 1999. He was chosen, together with Sumudu Jayatilaka, to sing the solo in the World Premiere of Sir John Tavener's "A New Beginning" at the Millennium Dome on December 31st 1999, just before midnight. He has been a member of St. Peter's choir since the age of six and frequently performs as treble soloist in sacred works including Allegri's "Miserere" and Mendelssohn's "Hear my Prayer", from which he has recorded the solo "O for the Wings of a Dove".
David's singing repertoire extends into theatre and concerts. His interest in more dramatic roles began at school when, at the age of nine, he took the role of Pharaoh in Andrew Lloyd Webber's "Joseph and the Amazing Technicolor Dreamcoat". Subsequently, he performed as singer and dancer with the Fonteyn Theatre Group and won critical acclaim in 1997 for his portrayal of the title role in Menotti's opera "Amahl and the Night Visitors" with St. Albans Chamber Opera. He made his professional debut with Almeida Opera in the principal role as Boy in the World Premiere of Roderick Watkins' opera "The Juniper Tree" at the Munich Biennale Festival, subsequently performing it in London . He has sung principal roles with English National Opera as the Shepherd Boy in "Tosca", First Spirit in "The Magic Flute", and Fyodor in "Boris Godunov", with Teatro Lirico in Sardinia as Miles in Britten's "The Turn of the Screw", and currently as Yniold in Debussy's "Pelléas et Mélisande" with the ENO. Concert appearances include two charity concerts at the Royal Naval College Chapel in Greenwich, Soprano Knabe in Mahler's "Das Klagende Lied" in the Royal Albert Hall with the Royal Philharmonic Orchestra and concerts with the BBC Concert Orchestra in the Royal Festival Hall, London, Symphony Hall, Birmingham, and the Fairfield Hall, Croydon.
David, who is thirteen years old, studies singing with Phyl Swindlehurst, and has been awarded many prizes at local music festivals including three awards as most promising young singer. He is a pupil at Beaumont School and a member of the Hertfordshire Schools Symphony Orchestra. With St Peter's choir, he has toured in Great Britain and France and played in goal for their medal-winning football team. When not singing, David enjoys studying piano, saxophone, viola and drums, playing jazz and chamber music, and also playing tennis, basketball and football.
Christopher Muhley
Christopher Muhley was brought up in St Albans. After leaving St Albans School he studied organ and singing at the Royal College of Music in London., including three years of study with Herbert Howells. Subsequently, he undertook a post-graduate teaching diploma at the Institute of Education, London University. He has taught in a number of schools in Hertfordshire and is now Director of Music at the Haberdashers' Aske's School at Elstree.
He has been Director of Music at St. Peter's Church in St Albans since 1976, nurturing and sustaining a rich and lively musical milieu. St. Peter's continues to be one of the few parish churches able to boast a 'traditional' choir of men and boys. With this choir, he has made several recordings, and broadcasts for BBC Radio 2, Three Counties Radio and Chiltern Radio in the United Kingdom, and on local French radio. He has organised and led a number of concert tours, both in this country and in France, Germany and Austria. As in the case of many Cathedrals, St. Peter's has also recruited and trained a girls choir to contribute to Sunday worship.
Tony Wigram
Tony Wigram read music at Bristol University, and subsequently psychology at Royal Holloway and Bedford New College, London University. He holds post-graduate qualifications in music therapy, and a PhD in Psychology from St. George's Medical School, London University, and is Professor and Head of PhD Studies in Music Therapy at Aalborg University, Denmark.
A boy chorister himself, he attended Cathedral courses with the Royal School of Church Music at Truro, Westminster and Canterbury Cathedrals. From 1974-1984 and 1986-1992 he was organist and choirmaster at St. Mary's Church, North Mymms. He has composed settings of the Series III Communion Service and the Lord's Prayer, and released a tape 'Organ Lights' for the Archbishop of Canterbury's appeal for the Inner Cities. He is a pianist, organist, and viola player, and teaches piano improvisation. In the field of music therapy he is internationally known as a researcher, educator and clinician, and the author of several edited books and articles. He travels and lectures extensively in Europe, the USA and Australia, and whenever he is home in St. Albans he regularly sings in St. Peter's Church Choir.
Organ pieces recorded in St. Mary's Church, Woburn on 20th and 21st December 1999 by kind permission of the vicar, Rev. Alan Heslop.
Piano pieces recorded in the Seldon Hall at the Haberdashers' Aske's School on 22nd December 1999 by kind permission of the Headmaster and the Director of Music.
Produced by Tony Wigram and Christopher Muhley.
Musical Associate: Jenny Wigram
Recorded and edited by Lance Andrews