Such a Feast - Treble solos sung by Jonathan Rendell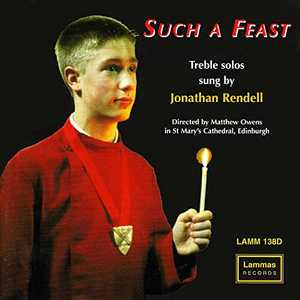 Director/Organ: Matthew Owens
LAMM138
Bist du bei mir
Johann Sebastian Bach
I know that my redeemer liveth (Messiah) Georg Friderick Handel
Evening Hymn Henry Purcell
Pie Jesu Gabriel Fauré
Long since in Egypt's plenteous land Charles Hubert Hastings Parry
No small wonder Paul Edwards
A New Year Carol Benjamin Britten
Nunc dimittis Geoffrey Burgon
Zwei geistliches Lieder Max Reger
Ich sehe dich in tausend Bildern
Meine Seele ist still zu Gott
O sacrum convivium
Matthew Owens
The Lord's Prayer Frank Martin arr. Ian Tracey
The Call Ralph Vaughan Williams
Panis Angelicus César Franck
Amazing grace American trad. arr. Powell
Pie Jesu Maurice Duruflé
Lord of the dance Shaker tune arr. Matthew Owens
Total playing time 57m 57s
Such a Feast - Treble solos sung by Jonathan Rendell
Treble solos sung by Jonathan Rendell
Such a Feast
The British Isles is unique in the musical world for its tradition of Anglican cathedral music. This tradition is centuries old and musically diverse: from monastic Gregorian chant, via the splendours of the sixteenth-century English polyphonic school and the nineteenth-century choral Renaissance, to the present day, where music from other countries and religious traditions is embraced. One of the particular features of our cathedral music has been its use of all-male choirs that is to say tenors and basses, countertenors and boy trebles: this gives the choral sound a distinctive English quality that is unrivalled anywhere else in the world. (Happily, a growing number of cathedral choirs now employ girls voices as well as boys, to great effect, including St Mary's Episcopal Cathedral in Edinburgh.)
The use of the male treble voice as a solo voice in its own right is sadly not as popular now as it once used to be. In the 1920s and 30s many head choristers achieved near star status as their choirmasters proudly showcased their skills - one has only to think of Ernest Lough, who sang under George Thalben-Ball at the Temple Church; his recording of O for the Wings of a Dove is now a classic of its time and, some would say, has never been surpassed.
The music on this recording demonstrates the variety of repertoire that is available for this medium, as sung by the head chorister and other choristers of St Mary's Episcopal Cathedral in Edinburgh. Not surprisingly, there is an element of compromise in this selection: some of it was originally composed with a female soprano voice in mind, whilst other pieces are more conventionally sung by a choir of upper voices.
George Frideric Handel composed his oratorio Messiah in just a number of weeks in 1741, and its first performance was given in Dublin in 1742. It has become a perennial Christmas favourite with choirs and choral societies around the world, and is easily Handel's most popular work. The beautiful soprano aria I know that my Redeemer liveth begins the third part of the oratorio, immediately following the famous Hallelujah Chorus, and is a simple, yet profound statement of belief; in this recording it is performed with obbligato violin solo and continuo. Another work that has become a favourite in the repertoire is Bach's Bist du bei mir, BWV508. Unlike Handel's aria, this is not part of a larger work, nor is it attributed to Bach. It was, however, included in the Clavierbüchlein der Anna Magdalena Bach, a collection of miscellaneous keyboard pieces, chorales and arias that J.S.Bach collected for the musical instruction of his second wife. Various composers were represented, including some from the Bach family, as well as Johann Adoph Hasse, Christian Petzold and Gottfried Heinrich Stolzel; it was the latter who contributed Bist du bei mir as a simple vocal line with figured bass. As with a number of other pieces from that period, this aria has become associated, somewhat erroneously, with J.S.Bach! This performance uses continuo (organ and cello), as does that of Purcell's Evening Hymn; this dates from c.1688 and uses a beautiful, valedictory poem by Fuller. Purcell sets this over a simple ground bass to great emotional effect; it ends with long, arching melismas on the single word "Hallelujah".
Of the three French items on this disc, only Fauré's Pie Jesu was originally composed for a treble voice; it comes from his Requiem of 1887-88, and was first performed on 16th January 1888 at a funeral in the Parisian church of La Madeleine, where Fauré was choirmaster at the time. At this stage the work had only five movements (Introit et Kyrie, Sanctus, Pie Jesu, Agnus Dei & In Paradisum), and was scored for a small ensemble of violas, cellos and basses, with harp, timpani and organ. The Pie Jesu is intimate and simple, and the vocal lines are interspersed with gently, rocking figuration from the strings. Duruflé's Requiem was first performed in 1947, and takes the Fauré as its model, although it is no pastiche: Duruflé expands Fauré's formal plan and is harmonically more forward-looking, using plainchant as his musical source material. The Pie Jesu is the musical and emotional heart of the work, and is an achingly beautiful setting of the plainchant for treble (originally mezzo-soprano) and solo cello. César Franck's motet Panis Angelicus is usually performed as a choral item, although originally it was never intended to be sung by a choir: it was, in fact, a tenor solo that Franck included in his Messe à 3 voix (1872) for soprano, tenor and bass soloists, accompanied by harp, organ, cello and double bass. This performance recreates this somewhat with an accompaniment of organ and cello.
Max Reger's position in the history of music is often underrated, partly because his own extraordinary talents were eclipsed by the more turbulent changes in the musical landscape at the time. His highly chromatic and texturally dense language would not have found favour with the advance of the Second Viennese School, although in many ways he was both the natural successor to the late nineteenth-century tradition laid down by Brahms, Mahler and Wagner, and a forerunner to early twentieth-century modernism (Strauss, Schoenberg etc). Reger is best known for his fine corpus of organ music, although there are many fine orchestral and chamber works; there are also a good many song cycles. His Zwei geistliches lieder date from 1907 and set two unrelated texts - one by Novalis (a.k.a. Friedrich von Hardenberg), the other a paraphrase of verses from Psalm 62; although simple and reflective, they display Reger's harmonic style to good effect.
With the next four items, we enter for the first time into the realms of cathedral repertoire proper. After Jerusalem and the anthem Blest Pair of Sirens, Parry is best known for his tune to the hymn Dear Lord and Father of mankind. The music originates in his oratorio Judith (1888), and is a tender ballad (Long since in Egypt's plenteous land) sung by the queen to her children, reminding them of how God led the Israelites to safety. With the interludes and coda reinstated, this most familiar of melodies is given a new dimension, and, moreover, shows what influence the music of Brahms had on Parry. Ralph Vaughan Williams composed his Five Mystical Songs in 1911 to texts by the metaphysical poet George Herbert. The Call is the fourth of the set, and is usually sung by a baritone voice.
The office of "Evensong" is one of the musical jewels in the crown of cathedral music, and the combination of psalms, responses and canticles all sung to a variety of music can be a most uplifting experience. One of the canticles prescribed for this service is the Nunc Dimittis, the song of Simeon taken from St Luke's Gospel, after he had seen the infant Jesus presented in the Temple. The version included on this recording is not by a composer from the Anglican tradition, but by Geoffrey Burgon, a composer better-known for his incidental music for television, including the drama series Brideshead Revisited. His setting for treble voice and organ was the theme music for the 1979 TV series Tinker, Tailor, Soldier, Spy, and its haunting quality is the result of the abrupt shifts in tonality between phrases.
The remaining items on the disc are short items suitable for various part of the church year. Benjamin Britten's New Year Carol and Paul Edward's No Small Wonder are simple, attractive strophic pieces applicable to the Christmas season. The setting of O Sacrum Convivium by Matthew Owens (the current Organist and Master of the Music at St Mary's Cathedral) sets the Vespers antiphon for the Feast of Corpus Christi, and employs rich, French-style harmonies in the organ accompaniment to support the vocal line. The Swiss composer Frank Martin's setting of the Lord's Prayer uses repeated notes over undulating chordal harmony to create a calm, prayerful atmosphere. Finally, two well-known hymns are the basis for the colourful arrangements of Amazing Grace and Lord of the Dance by Powell and Matthew Owens respectively; both respond to the originals in an appropriate musical manner.
Jeremy Cull, 2002
Jonathan Rendell
Jonathan Rendell continues a family tradition of choristership – both his Father and Grandfather were head choristers at Westminster Abbey. Jonathan was born in Windsor, Berkshire in 1988. Living in the cloisters at Windsor Castle, he spent his much of his early years listening to the choir at St George's Chapel. He began his early music training on the piano and violin whilst at Trinity St Stephen Church of England School, Windsor. He became a member of the Berkshire Boys' Choir with whom he sang until the family moved to Scotland.
Jonathan joined the choir of St Mary's Episcopal Cathedral, Edinburgh in 1999 singing over 250 services every year and taking part in the choir's concerts, broadcasts and recordings. In July 2000 he played the part of Flavio in the Opera Theatre Company's production of Handel's Rodelinda at the Edinburgh Festival Theatre. He returned the following year as Cobweb in The Royal College of Music Benjamin Britten International Opera School's highly acclaimed production of A Midsummer Night's Dream. In December 2000 Jonathan represented St Mary's Cathedral as treble soloist in a Raymond Gubbay Christmas Gala Concert at the Usher Hall with the Scottish Concert Orchestra and again in 2001 at the Royal Concert Hall, Glasgow, appearing alongside Ian McCaskill and Tim Brooke-Taylor respectively.
In March 2001 Jonathan was heard as a soloist on a Radio 3 Choirworks Broadcast from Manchester's Bridgewater Hall of Fauré's Messe Basse, which the cathedral choir later recorded on the Lammas label to critical acclaim. During the Edinburgh Festival in 2001 Jonathan sang the boy's solo role in the first performance of Dave Heath's Requiem "The Beloved" which was recorded for release on the Blackbox label. He is also a soloist on a forthcoming disc of works by the Estonian composer, Arvo Pärt from whom St Mary's Cathedral commissioned a setting of the Nunc dimittis.
In September 2001, Jonathan became Decani Head Chorister of the Cathedral Choir. He has twice represented St Mary's Music School in the Choir Schools Association Northern Division Annual Football Tournament, once as Captain. In September 2002 he took up an instrumental place at St Mary's Music School, studying violin with Warren Jacobs.
Matthew Owens
Matthew Owens became Organist and Master of the Music at St Mary's Cathedral, Edinburgh, in September 1999, at the age of 28. He is also a visiting Tutor in Organ Studies at the Royal Northern College of Music, Tutor in Organ Studies at St Mary's Music School and Director of the Exon Singers. Born in Manchester, he studied at Chetham's School of Music and was subsequently Organ Scholar at The Queen's College, Oxford from where he graduated with honours in music and made his recording debut as a conductor on the ASV label at the age of 21. As a postgraduate he received the highest award for performance, the Professional Performance Diploma, with distinction, and won the college Bach prize at the Royal Northern College of Music; gained a Master's Degree from the University of Manchester; won thirteen prizes in the diplomas of the Royal College of Organists and was awarded the Silver Medal of The Worshipful Company of Musicians. A Countess of Munster scholarship enabled Matthew to study with Jacques van Oortmerssen at the Sweelinck Conservatorium in Amsterdam in 1995 and in 1996 he was appointed Sub Organist of Manchester Cathedral. During his time in Manchester he broadcast twice weekly on BBC Radio 4's Daily Service and was Tutor in Organ Studies at the RNCM and Chetham's.
As an organist and harpsichordist Matthew has given recitals in France and Switzerland and throughout the UK, including festival appearances at Lichfield, Newbury, Oxford and Peterborough and at venues such as St Paul's Cathedral, Westminster Cathedral and St John's Smith Square, and has given solo performances in New Zealand and Australia. As a conductor and solo organist he has premiered many works by leading composers including Gavin Bryars, Dave Heath, Francis Jackson, Gabriel Jackson, George Lloyd, Naji Hakim, James MacMillan, Arvo Pärt, Howard Skempton and Giles Swayne. He is increasingly active as a composer and some of his works have been recorded for commercial release.
For a number of years, Matthew Owens was Associate Conductor of the National Youth Choir of Great Britain. In 1999, he made his professional orchestral conducting debut with the BT Scottish Ensemble and in July 2002, he made his Hungarian debut with the National Philharmonic Orchestra of Hungary. He regularly conducts the Orchestra of St Mary's Music School (Scotland's specialist music school) and with the Choir of St Mary's Cathedral has made a number of highly acclaimed recordings.
Recorded in St Mary's Episcopal Cathedral, Edinburgh 21st to 25th January 2002 by kind permission of the Provost.
Produced by David Goodenough
Recorded and edited by Lance Andrews
Photograph by Peter Backhouse